Kentucky is like a dream come true for bourbon lovers. There are 27 distilleries that are all worthwhile visiting if you have the time. You just can't go wrong with these facilities. Bourbon straight from the source! These are places where the generations have passed down the distilling art, so even the "less high quality" distilleries are going to produce something that you will enjoy. Let's take a look at this list of bourbon distilleries in Kentucky.
Also, make sure to do some tasting of something other than bourbon. There is a lot that Kentucky can offer and there are some real high quality liquors that you might not expect. Sure, most of it will be bourbon and rye. However, some of the distilleries will produce other things from gin to rum, and even absinthe. In any case, we will talk about mostly bourbon here because that's what most people go to Kentucky to find. I think this list will satisfy your cravings in many ways.
Of course, I'm not trying to be all inclusive here. I wanted to give you some highlights so you could prioritize your visit. I've tried to include some of the larger facilities as well as a couple smaller ones. However, there are a lot of facilities out there, especially if you have a certain brand in mind.
Most tours take about an hour with the bourbon tasting at the end. You'll find costs to be about $10 give or take a few dollars. Some tours are a little longer and in depth, and some are a little more of an overview and may try to sell you some stuff. Oh, and don't forget to make a reservation. That will always help.
Angels Envy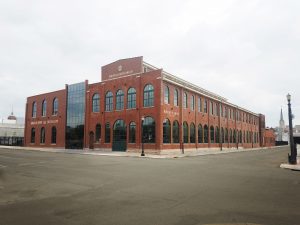 Angel's Envy is in the heart of it all. Located in downtown Louisville, it's a great place to start and may be the closest distillery to your hotel. It's actually the first full distillery in the downtown area. It's helpful that they make such great bourbon. Angel's Envy will start you off on the right foot or could be your last stop on at the end of the day. Make sure to make a reservation online for your tour. It's always a bummer to show up and then get turned away. Here are the hours of operation:
Monday: 10 a.m. – 5 p.m.
Tuesday: No public tours offered
Retail Store is open 10 a.m. – 5 p.m.
Wednesday – Saturday: 10 a.m. – 5 p.m.
Sunday: 1 p.m. – 5 p.m.
HEAVEN HILL DISTILLERY'S BOURBON HERITAGE CENTER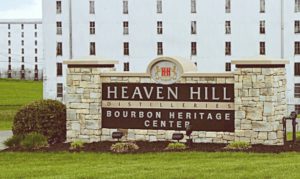 Heaven Hill may not be a name you've heard of. Unlike Angel's Envy, the distillery doesn't have the same name as the liquor they sell. This is because this distillery is the home of several brands. They make Elijah Craig and Evan Williams, which I'm sure you've heard of before. Elijah Craig plays a big role in the history and story of bourbon. You can read about that here.
The Shapira family has owned Heaven Hill since 1935.
Heaven Hill has been the largest independent, family-owned distillery in America since then. They have a bunch of exhibits and interactive displays that you can experience. Also, they have a working rackhouse and stand inside the world's largest bourbon barrel.
Heaven Hill opened the Bourbon Heritage Center in 2004. There are some Heaven Hill locations right in Louisville, but the Heritage Center is a little south. The tours are great and inexpensive. Of course, you will get to try some bourbon. Also, if you're interested, the "Whiskey Connoisseur Experience" tour provides a little more bourbon.
January and February
Monday: Closed; Tuesday – Saturday: 10 a.m. – 5 p.m.
Sunday: 12 p.m. to 4 p.m.
Last tour offered one hour before closing.
March – December
Monday-Saturday: 10 a.m. – 5:30 p.m.
Sunday: 12 p.m. to 4 p.m.
Last tour offered one hour before closing.
FOUR ROSES DISTILLERY AND WAREHOUSE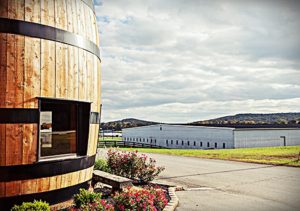 The Four Roses distillery is pretty darn cool. It's actually listed on the National Register of Historic Places! They have some really great Spanish Mission-style architecture. Unfortunatley, it's a bit farther from Louisville to the East. That being said, if you like their stuff then you should take the drive. You can tour both or either of the distillery or the warehouse in Cox's Creek. You'll get a taste of bourbon in both spots. The really big barrel shaped building is fun.
The warehouse is a single story rack. Out at the Creek, life is slow paced and something to be enjoyed. But they make some great bourbon, so it's worth the mozy over there.
Hours:
Monday – Saturday: 9 a.m. – 4 p.m.
tours on the hour
Sunday: 12 p.m. – 4 p.m.
tours on the hour
The last Facility Tour departs the Visitor Center at 3 p.m. daily
MAKER'S MARK DISTILLERY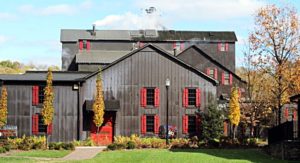 Maker's has some really popular bourbon, so a lot of people want to make this stop. Unfortunately, this distillery is about an hour outside of Louisville, which makes it more difficult to see. Of course, if this is a priority for you, then it is what it is.
Like most places, they offer a one hour tour of their facility. And the place is really cute and homey looking. Of course they have a gift shop as well.
Maker's Mark is owned by the Samuels family, who has run the place since prohibition. They are clearly one of the most popular brands in the world. That red wax on the cork is easily recognizable. They still hand-dip those bottles, which is quite amazing. You can even dip your own bottle.
Monday – Saturday (Nov – Apr): 9:30 a.m. – 3:30 p.m.
Sundays: 11:30 a.m. – 3:30 p.m.
Fridays & Saturdays (May – Oct): 9:30 a.m. – 5:30 p.m.
BULLEIT FRONTIER WHISKEY EXPERIENCE AT STITZEL-WELLER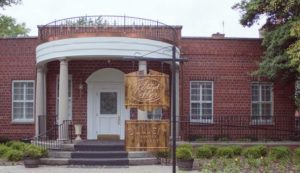 Stitzel-Weller is just a few miles from the downtown area of Louisville, so this is a good stop to make. Plus, most bourbon fans will want to visit since Pappy was made here. If you haven't got much time, you should probably make this a priority. This distillery was re-opened just a few years ago and there is a lot of history to see.
Regarding Bulleit in particular, the brand was reborn in 1987 by Thomas E. Bulleit, Jr. He did a great job in bringing back his old family bourbon recipe when he started the Bulleit™ Distilling Company. His great-great-grandfather Augustus Bulleit made a high-rye whiskey between 1830-1860. Tom actually left behind a successful law practice for the pull of the frontier.
Looks like it all paid off. Bulleit Bourbon has become very fashionable and popular. Bulleit™ Bourbon is still distilled and aged as it was years ago thanks to the Bulleit family tradition. The high rye content gives it a bold, spicy flavor and manages to keep a smooth finish.
Monday – Saturday: 10 a.m. to 4 p.m.
Closed on Tuesdays
Sunday: 1 p.m. to 4 p.m.
BUFFALO TRACE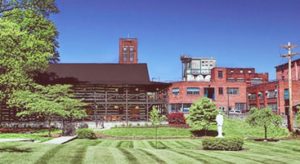 Buffalo Trace is another big name in distilling. They have several tours you can do, including the Hard Hat tour. The Hard Hat tour includes a lot more time in the back areas. You can learn a lot about the facility back there. Also, you get to see the research labs where they make experimental libations.
This facility is actually the oldest distillery that has been continuously operated in the US. They've won a bunch of awards, too. Interestingly, people of all ages can visit the tour. So bring the kids! They can learn all about distilling as well.
Everyone gets a free tasting after the tour. They also have old fashioned root beer and bourbon balls. These are not to be missed.
HOURS: *Monday-Friday Tours: 9am-4pm departing every hour Gift Shop: 9am-5:30pm *Saturday Tours: 9am-4pm departing every hour Gift Shop:9am-5:30pm *Sunday Tours: Noon-3pm departing every hour Gift Shop: 12pm-5pm *All tours and tastings are FREE! *We have a beautiful Clubhouse that can be rented for events!
JIM BEAM

Jim Beam is a huge company. They have a lot of brands and are very popular. They make good stuff!
The distillery tours are only 30 minutes long, so they're a little shorter than a lot of the other places. However, they also have a stillhouse in downtown Louisville that you can tour. It's like a mini version of the big distillery.
Beam has been around for seven generations.Apparently, Jim Beam was born in the Americal Stillhouse, where they now have a bunch of hands on tours, which are fun. Jim Beam now call themselves the world's number 1 bourbon.
American Stillhouse Tours (Clermont, Ky.)
Monday – Saturday: Tours every half hour from 9:30 a.m. until 3:30 p.m. EST except 11:30 a.m. and 12:30 p.m. EST
Sunday 12:30 p.m. – 3 p.m. EST
Gift Shop Hours
Monday-Saturday: 9:00 a.m. – 5:30 p.m. EST
Sunday: 12:00 p.m. – 4:00 p.m. EST
Urban Stillhouse (Louisville, Ky.)
Monday – Saturday: 1 p.m. – 9 p.m. EST
Sunday: Closed